Junk Removal & Dismantling Specialists | Fully Licensed & Insured
Chantilly VA Junk Removal
Git Rid Of It junk removal services Chantilly, VA. We spend a lot of time hauling bulk junk in Chantilly. Each city and area has trash companies with different rules regarding bulk trash, furniture, appliances and the like. The difference with us is we'll send a 16ft box truck that's always manned by at least 2 crewmembers to ensure each heavy item that you need removed will be handled on the first trip. You won't need to carry anything, risk hurting yourself, prepare anything for our arrival, or any other work. We do it all for you including carrying everything out. We don't require that you gather or pile items before we arrive. We will go to any part of the property or inside to carry each individual piece. We are a point and carry operation, and that labor comes free as part of our low prices. In fact you only pay for the portion of our large 16ft box trucks that are filled. The trip, the labor, the donation trip, the recycling trip, and the disposal trip are all included. Even with all that we still manage to beat nearly every local competitors' prices. You point, we carry, it's as simple as that. We offer a wide array of services, which you can see below.
When considering a junk removal company, there are many points to consider. Do they have insurance? Are they covered by workers compensation? Do they operate in this order: donate, recycle, trash? How many years of experience do they have? Well, our answer to all the questions above is yes, and we've been operating over 10 years. Our crew is highly experienced, and we operate 7 days a week, including early morning appointments at 7am so we can quickly remove items before you leave for work if necessary. We also send hourly paid crew, and our trucks to deliver needed, gently used furniture to people in need. We accomplish this working through a charity called Bridges to Independence, who helps furnish homes for struggling families getting their first home. So if you need a junk removal in Chantilly, VA, consider all the facts, and consider Git Rid Of It.
Chantilly VA Junk Removal Services We Offer:
Office cleanouts
Pick up and delivery
Crawl space cleanouts
Pick up and drop off services
Play set dismantling and removal
Porch dismantling and removal
Riding lawn mower removal
Sailboat / boat dismantling and removal
Scrap metal removal
Shed dismantling and removal
Storage cleanouts
Swing set dismantling and removal
TV Removal Chantilly Virginia
Trash removal
Clean Outs for City Government Projects
Clean Outs for Federal Government Projects
Yard debris cleanup and removal
Fence dismantling and removal
Fire restoration
Tree debris removal
Foreclosure cleanouts
Furniture delivery
Appliance pick up and removal
Attic Cleanouts Chantilly VA
In-House Moves
Basement cleanouts
Carpet pick up and removal
Construction debris cleanup
Couch removal
Hoarder clean up
Hot tub dismantling and removal
Item pick up from stores
Junk Removal Chantilly VA
Move or deliver single pieces
Google Review by Kerry:
"I had a great experience with Git Rid of It Junk & Trash Removal. I sent an online inquiry on Saturday and heard back immediately. They were able to come out in less than 24 hours on Easter Sunday even to provide an estimate for removing concrete, bricks, wood, gravel, and miscellaneous debris from our yard. The price was very reasonable, so we hired them instantly. They removed it the same day and did an excellent job cleaning up. Payment was easy by phone and the woman who coordinated with us was friendly. I would certainly recommend this company and will use them for future junk removal. Thank you!"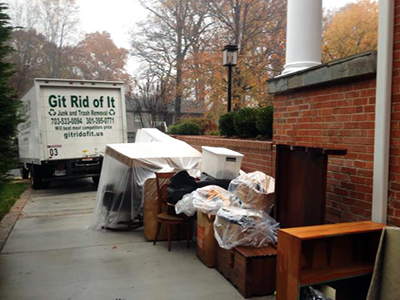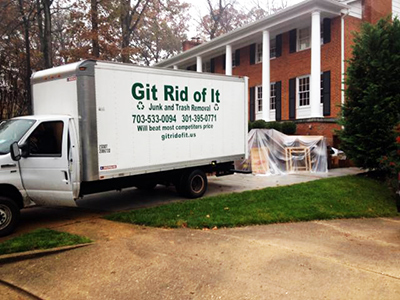 If you are searching the internet for "junk removal near me", "junk removal in Chantilly VA", "get rid of my junk in Chantilly Virginia" or "junk hauling, bulk trash pickup in Chantilly VA," Get Rid Of It Junk Removal serves all of Chantilly Virginia including zip code 20151 and its neighboring towns and cities. Give us a call or email us today!